We are experienced, skilled Arborists and Tree Surgeons who are keen to see your land thrive.
We have over 15 years of experience, a range of specialist equipment and a fantastic team of tree surgeons working in the Sheffield, Dronfield, Chesterfield, Peak District and surrounding areas such as Bolsterstone, Loxley, Grindleford and Hathersage.
We are proud to be the most reviewed tree surgeon service in Sheffield and surrounding areas with over 60 5* Google reviews and many more on Derbyshire's Trusted Trader. We are also very sure that we are one of the most reasonably priced companies in Sheffield. So we think we are the best tree surgeons in Sheffield!

We will visit your land to give you a free quote and talk through the work that needs doing, we are happy to advise you whilst taking into consideration your requirements and also what is best for your trees and garden. We will also work with the relevant city council to gain the correct permissions for the tree surgery work you need.
We also have all and more than the required qualifications and public liability insurance.

We provide a full range of tree care services such as tree removal, pruning and hedge care. We also take pride in leaving your garden very tidy and clean.
Tree Surgeon Services:
Here are some of the Tree Surgeon services we have to offer and a description of terminology with useful dynamic before and after imagery as we appreciate that it is not always easy to understand all the terminology used. Watch the images as it shows the trees with leaves and without so you can get a good idea of what will happen to the tree canopy after the work has happened:
Crown Thinning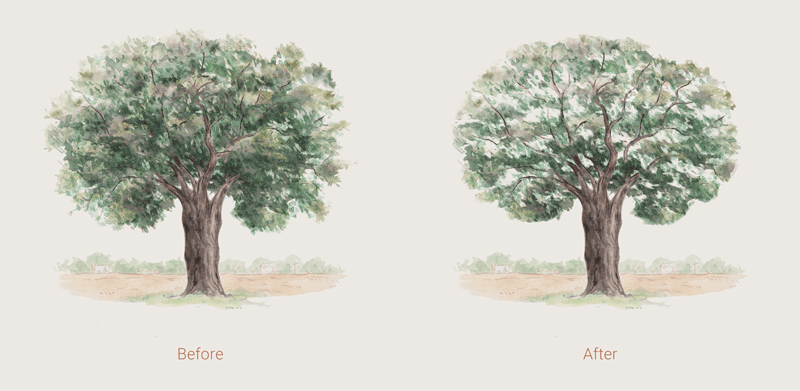 Have you got a tree in your garden which is cutting out light? Or is overly dense? Crown Thinning can help let more light in whilst keeping the structure. A Crown Thin will not alter the overall size of the tree but rather it will reduce the density to a maximum of 30%. This treatment can greatly enhance the health of the tree as it is the process in which we remove branches that are dead, crossing or duplicated from the crown of the tree.
A Crown Thin not only enables the tree to be safe and healthy but it will balance the tree structure, making it less dense and allowing light to stream through the branches. This method also reduces wind resistance which means that the tree is less likely to lose a branch or come down in bad weather if the wind can easily pass through the canopy without obstruction. A Crown Thin is most appropriate for a broadleaf species such as a Beech, Oak and Sycamore.
Crown Clean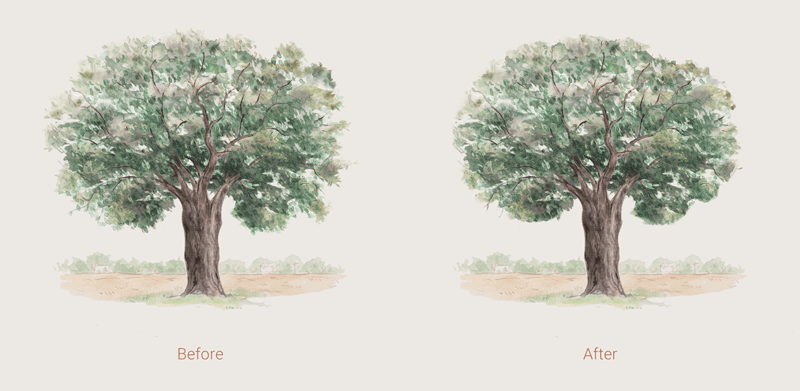 A Crown Clean is different to a Crown Thin as we mostly only remove dead, dying, crossed or diseased limbs from the canopy to ensure the health and safety of the tree. This is sometimes referred to as "dead wooding'. Dead or diseased branches can drop causing danger to items below and crossed branches will rub, causing weakness and eventually breaking. If a tree is over run with Ivy around the stem, we will remove this as it can cause significant damage and mask potential hazards such as rot pockets and cavities.
As a tree matures there will inevitably be dead and diseased branches, removing these will encourage new branches to sprout and grow, this is sometimes called Crown Restoration. It is a good way to rejuvenate the tree canopy.
Some trees are in low risk areas meaning that they could be in a woodland or field where there is no public access. If this is the case then it is fine to leave these trees without much intervention unless you particularly want to care for the tree. However, if your trees are in a high risk area where there is public access, then a Crown Clean is definitely recommended, particularly as the tree matures.
Crown Reduction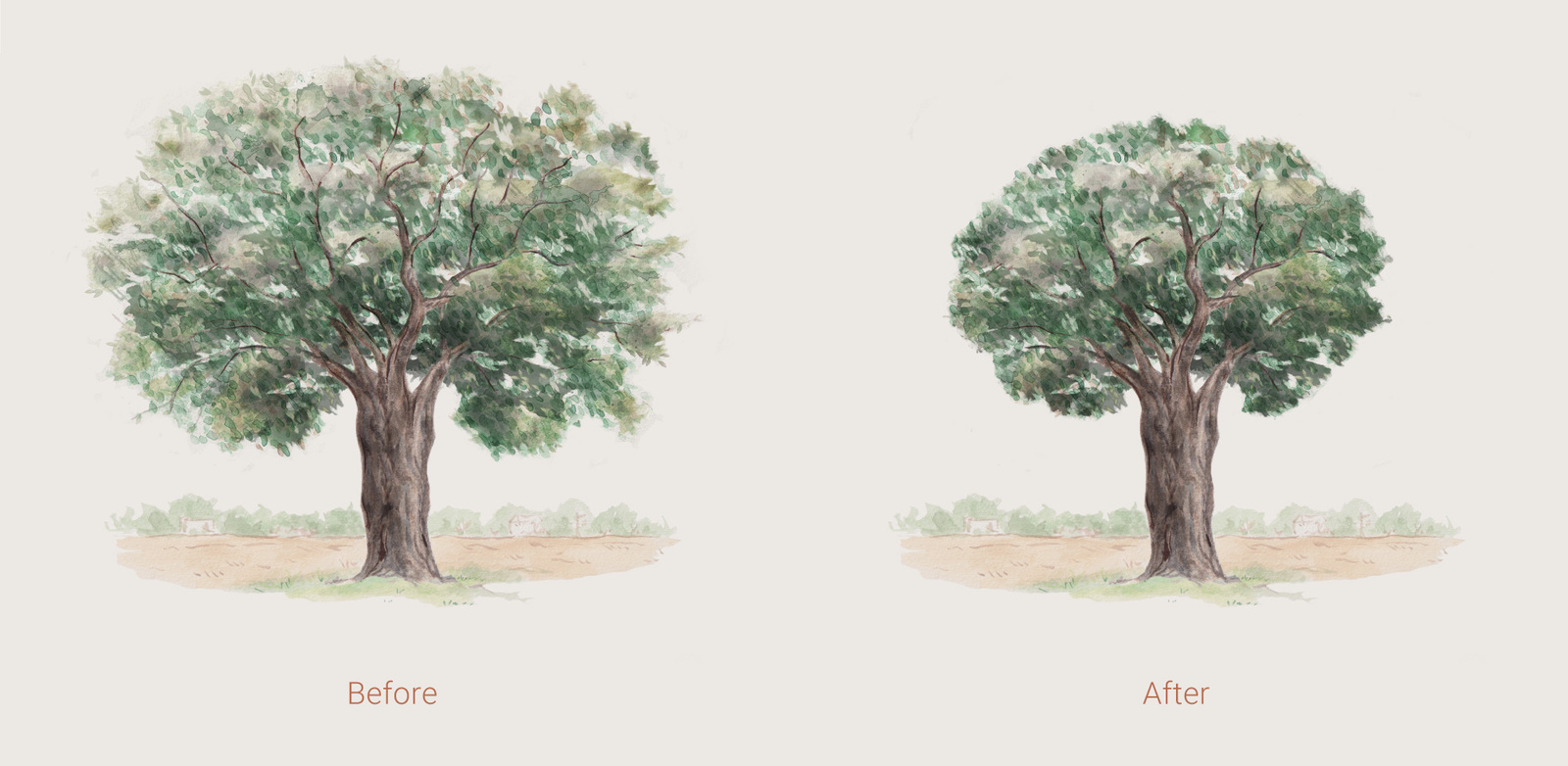 A Crown Reduction is beneficial if you're concerned about the height and spread of a tree. It is the process in which we remove branches from around the canopy to reduce the overall size and expanse of the tree whilst still maintaining the original framework of the crown. It will also enable the tree to maintain its natural shape.
It is a great option if you would like to scale down the overall size, secure the safety, and retain the natural form of the tree. Again a reduction is mostly beneficial for broad leaved trees.
Crown Lift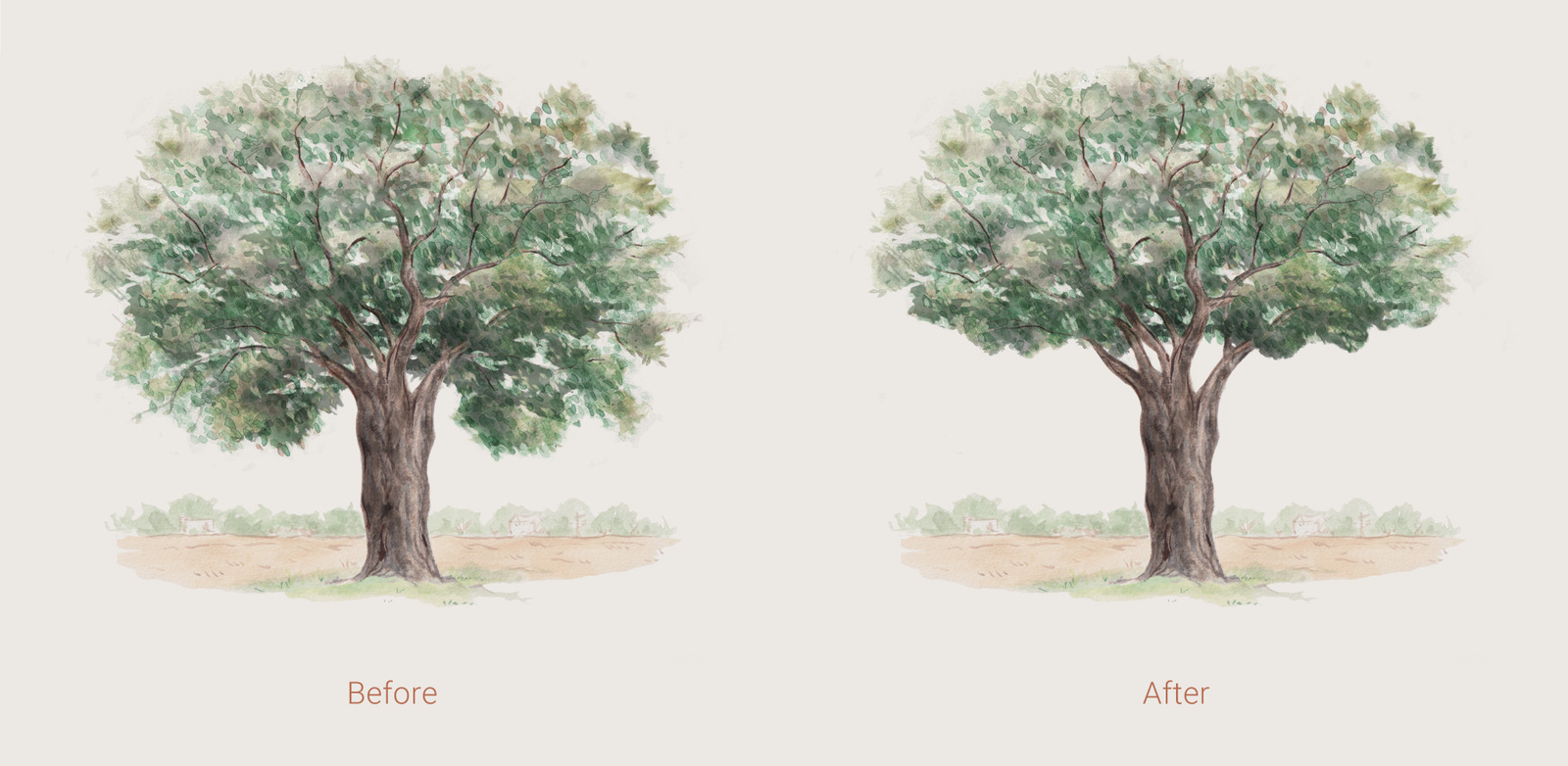 If you have branches that are hanging low and you would like more room below the canopy of your tree, then a Crown Lift is a good choice. This is where we remove the lower branches of the tree to lift the height of the canopy. In good practice, it is not in the interest of the tree to remove very large limbs of lower branches growing directly from the trunk as that will leave a large wound open to decay. For more mature trees, a crown lift is also restricted to secondary branches or the shortening of primary branches.
A Crown Lift is commonly carried out to allow access to gardens or footpaths and to lift the canopy or branches from buildings and cars. This process also allows more light into your garden.
Pollarding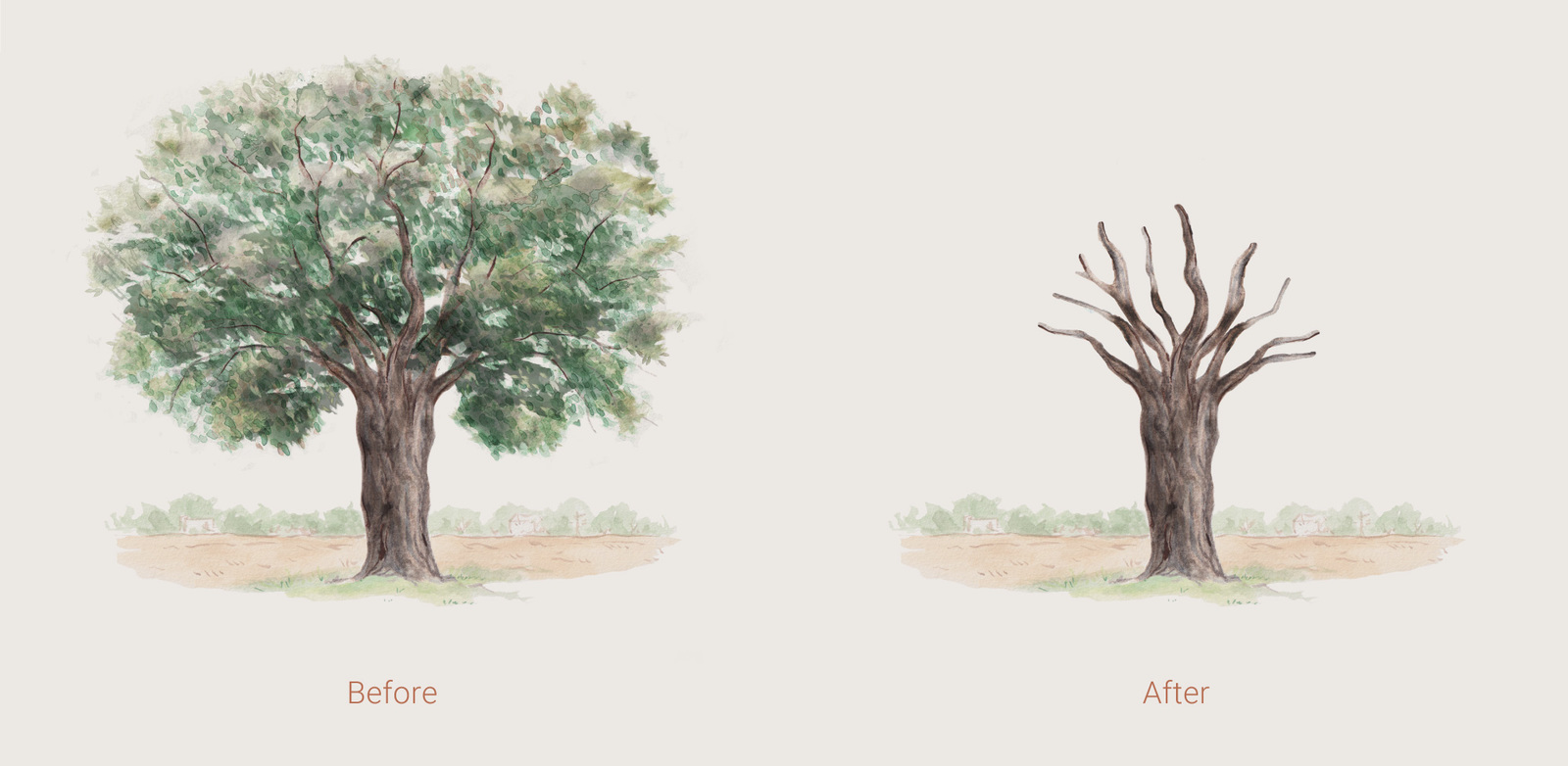 Pollarding is the method in which we cut the entire tree back to growth points, this is an extreme way to manage a trees growth. It can be difficult for most trees to regain their natural shape after Pollarding however for some trees such as a Weeping Willow it can actually help these gain a particular shape.
Pollarding is primarily done in the interest of safety to secure a dangerous tree, to trees that have unfortunately completely overgrown their situation and it is also carried out on roadside or boundary trees. On the plus side a Pollard can save a tree that otherwise would need to be entirely removed. It is also worth remembering that if a tree has been Pollarded before then re-pollarding is often the only way to prune it again. It's commonly done to Lime, London Plane, Sycamore and fruit trees.
Tree Dismantling
This is where a tree surgeon cuts a tree down to ground level. In most cases it requires that we climb the tree using specialist techniques to safely remove it without damaging nearby obstacles. It may require that we lower branches over objects such as houses, garages, sheds or other items, this method ensures the least amount of damage to surrounding areas as the tree is dismantled in sections.
Removing a tree is an important decision and really should only be done if the other options such as Crown Reduction, Lift and Pollard will not work or if the tree is dangerous. That being said, if you have a mature tree in your garden, it's important that you regularly check its health, what may seem a strong healthy tree could be diseased, dying or damaged. We can help in identifying any problems and recommend potential work that needs to be carried out to help the tree but also avoid any damage to your property and the public.
Tree Felling
Tree Felling involves cutting the tree at the base, and either by using wedges or balancing the weight of the tree to aim it in a direction where it can land safely. This approach is used only when space allows it but is a quick and effective method. Once the tree is on the ground, our tree surgeons then process it by cutting all the side branches off and chipping them through our Timberwolf Woodchipper. Once they are removed, we then cut the main stem into rings of wood which can be used for firewood.
Removal of Dead, Sick, Dying or Dangerous Trees
If a tree is dead, dying, dangerous or has cavities we can advise you as to the best way to remove it or make it safe. If you are unsure whether a tree should be removed, please call us and we will be glad to advise you free of charge
Hedge Management
We manage a lot of hedges around Sheffield, the Peak District, Chesterfield, Rotherham, and surrounding areas. As tree surgeons, we feel that a regular maintenance program such as hedge trimming is important. It keeps them neat and tidy but also encourages the hedges to grow tighter and denser. This means each time we cut them it becomes easier and faster saving you money. We pride ourselves on a very good hedge cut.
Stump Removal
If you have a tree stump in your garden and it's getting in your way, we use a method in which a machine will remove the stump. A Stump Grinder is a machine that grinds away the stump so that nothing is left but a solid mix of soil and sawdust, allowing you to replant or re-turf what would normally be a wasted area. Find out more about our stump grinding service here.
Woodland Management / Forestry
Silver Oak has had plenty of experience in woodland management. We have cared for numerous woodland estates, one example is Holme Wood which falls between Grindleford and Calver. We managed the woodland there for over 10 years creating woodland rides, thinning the woodland out, re-planting trees and crown lifting. We also had to control the spread of Himalayan Balsam which had overrun many areas in the woodland.
Another project we had was in Chesterfield, specifically near Holymoorside. It was in a woodland called Old Spring Wood. Silver Oak applied to the Forestry Commission for a grant to encourage birdlife into the woods along with trying to bring more native broadleaf trees into the woodland as the majority were Scots Pine. The grant was accepted, and we started work which first involved installing a ride around the entire 32acre woodland. We managed to find a buyer for the timber. This was a great project where we gained valuable experience.
One of our current projects is based in Sheffield at a beautiful majestic mansion in Bradfield. We are currently in the process of returning the woodland and gardens of the medieval hall back to its former. We are really enjoying this project and cannot wait to see it restored.
Tree Preservation Order / Conservation Area
Some trees have Tree Preservation Orders on them, commonly known as TPO's. These orders protect trees and ensure their continued care which is essential to keeping Sheffield green.
We are very happy to arrange to speak to your local council Tree Officers whether that be Sheffield, Derbyshire or Rotherham about any trees that have a TPO (Tree Preservation Order) or if your area falls into a conservation area. As Tree Surgeons in Sheffield, we regularly apply for permission to make changes to the trees on behalf of our customers saving you the task of applying yourself. This also is an advantage as by using the correct terminology we can ensure that the work needed to be done is accurately understood by the Tree Officers. We are happy to use our drone to take aerial photos of the trees which also makes it easier for the Tree Officer to see the work that needs to be carried out.
Tree Surgeon Sheffield - 24 Hour Call Out
Living in Great Britain and particularly in Sheffield, Chesterfield, Dronfield, or the Peak District, occasionally the weather can have an adverse effect on our trees. Tree surgeons are very often needed in an emergency to secure the safety of the tree in question. In case of an emergency please call us so we can make dangerous trees safe.


To discuss your requirements, please contact us here or call 07944 394 413.
Contact